T9000 Wireless Thermostat – Don't wire… Go Wireless!
The patented T9000 Wireless Thermostat System is the most flexible wireless thermostat solution on the market today. A two-part system, it is designed to provide precision temperature control without the installation difficulties and expense of wiring. Battery operated, the T9000 uses unlicensed 900MHz RF energy to communicate with one or more control nodes. Control nodes are installed at the HVAC equipment being controlled, and the thermostat is simply mounted on the wall with no need to wire it t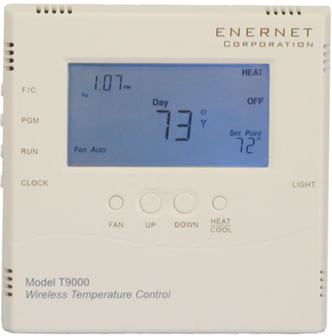 o power or to the equipment being controlled. The system is unique in that it is the only thermostat capable of simultaneous control of completely unrelated heating and cooling equipment through one thermostat, creating a virtual central heating and cooling control system.
Poor temperature control and lack of programmable temperature setback capability is inherent in a variety of widely used HVAC equipment types. For example, electric baseboard strip heat, window and wall a/c, PTAC and packaged terminal heat pump (PTHP), fan-coil and other hydronic and steam heating systems typically do not have precision thermostats or programmable capability, relying on integrated line-voltage thermostat controls such as bimetallic elements. Line-voltage thermostat controls are imprecise by design, improperly located (inside the equipment rather than in the space being heated and/or cooled), difficult to regulate, and generally a nuisance to adjust, often resulting in their being set and left in a relatively high demand for heating or cooling.
Compared to the alternatives, the T9000 is relatively simple to implement. You wire or plug in the equipment to be controlled to the appropriate Remote Controlled Node (RCN) and mount your wireless battery operated programmable thermostat wherever it is most appropriate and convenient. You can control up to 8 RCNs with the same thermostat within the same heating or cooling zone. In addition, those RCNs can be of any type heating, cooling or both. The result will be precision temperature control and energy savings!