K20 Power Measurement and Recorder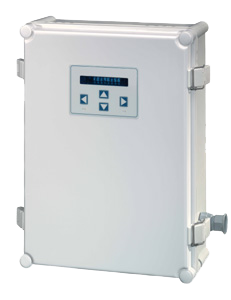 K20 Power Measurement Recorder and Submeter
Provides all the tools to comply with the International Performance Measurement and Verification Protocol

Ideal for electric submetering of multiple loads

Apartment Submetering/Energy Allocation
K20 – 1 : 8 Channel Power, 8 Analog, 8 Digital : $1655 ($1345 w/o Display)
K20 – 2 : 16 Channel Power, 15 Analog, 16 Digital : $2880 ($2490 w/o Display)
Call For Quantity Discounts
Enernet Corporation's K20 Power Measurement Recorder is an integrated power measurement system and data recorder in one instrument. The model K20 recorder provides up to 16 channels of true RMS power measurement as well as any desired discrete parameters.
The ENERNET Model K20TM meter/recorder is an integrated measurement and logging instrument capable of accurate and comprehensive acquisition of AC electrical energy, pulse counts, temperatures, and analog inputs.
The K20 is ideal for residential, commercial, and industrial submetering, apartment submetering, end-use load studies, DSM verification, and real-time energy metering.
16 channels of true RMS power measurement: volts,amps, watts, KVAs, KWHs, KVAHs, and waveforms.

15 analog input channels for temperature, flow, and other variables.

16 digital inputs, usable for pulse counting or runtime measurement. Eight digital outputs.

8-character alphanumeric display with keypad standard with Models K20-3 and K20-4 only.

Optional integral modem and Hi Lan local cluster capability.

Both realtime measurement and stored,scheduled time-series records (TSRs) of measured parameters.

100K to 1M bytes of nonvolatile TSR memory.

Support software including KToolsTM ready-to-use PC application package. Fully MV-90®- and Synernet®-compatible.

Minimum System requirements Windows 3.1, Win95, Win98, 512K Ram, RS232 Serial Port. KTOOLS not tested with Win2000, ME or XP.

Lower-cost 8-channel version also available.

ENERNET Corporation can also provide installation expertise – CONTACT US FOR MORE INFO