Baseboard Heating Application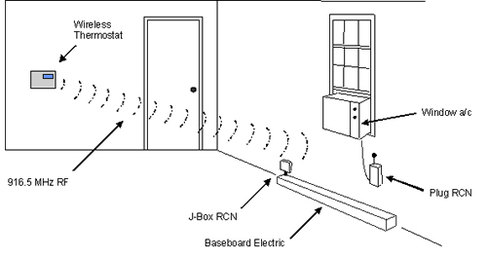 Baseboard Heating Application
The T9000 Wireless Thermostat System is a perfect retrofit option for electric baseboard heating. It can provide precision temperature control, dramatically improve comfort and save energy.
The J-Box RCN (Remote Control Node) shown below can be installed in two ways:
Mounting the J-box RCN with an appropriately sized power relay at baseboard heater unit itself, (the J-Box RCN comes in an attractive Ivory colored housing which can be mounted adjacent to the heater).

Often the easiest and least expensive method of installation is mounting the J-Box RCN at the circuit breaker panel. In this case, the J-box controls one or more properly sized relays, switching power to dedicated heating circuits. This is a preferred method.
Base Board to JBOX RCN Wiring Example
Components involved: